Stainless steel wafer lift check valve H71W/stainless steel one-way valve/wafer lift non-return valve adopts short structure size and single disc design. Compared with traditional swing check valve, this series of valves has no external Leakage, can be installed in any position, good sealing performance, low linear vibration, low pressure drop and zero seat ring wear advantages. Its main function is that the water hammer pressure is very small, the valve flap stroke is short, the valve flap is light, with spring assisted closing, and the valve closing speed is very fast. The structure is short in length, small in size, and light in weight, which brings great convenience to valve installation, transportation, storage and pipeline arrangement.
Working principle:
The valve flap is positioned along the center to move up and down. Due to the short closing stroke of the valve flap and spring loading, the closing speed is fast, which can significantly reduce the water hammer phenomenon. The product has the characteristics of small size, light weight, sensitive action, reliable sealing, and convenient installation. It is especially suitable for occasions where installation space is limited.
Features:
1. The valve flap closes quickly and the water hammer pressure is small.
2. It has short structure, small size and light weight.
3. The flow channel is unobstructed, the fluid resistance is small; the action is sensitive, and the sealing performance is good.
4. Due to the quick closing effect, it can prevent the medium from flowing back and eliminate the water hammer.
5. Easy to install, it can be installed on pipelines in both horizontal and vertical directions.
6. The valve plate adopts the design of adding two torsion springs on the mating plate, which can make the valve plate self-quickly close.
Scope of application:
It is suitable for various pipelines with nominal pressure PN1.6Mpa~42.0Mpa, Class150~2500LB; nominal diameter DN15~1200mm, PNS1/2~48″; working temperature: -196~540℃, used to prevent medium backflow. Valve. The body materials are: carbon steel, stainless steel, etc., which can be used for water, steam, gas, oil, acid media, etc.
The main technical parameters:
Model

Nominal pressure

(MPa)

Test pressure

(MPa)

Work temperature

(℃)

Medium

Shell

Seal

H71W-16T

1.6

2.4

1.76

≤200

Water, steam, oil, etc.

H71H-25Q

2.5

3.75

2.75

≤235

H71W-25H

≤300

H71W-25P

≤200

Corrosive medium such as nitric acid

H71W-40H

4.0

6.0

4.4

≤300

Water, steam, oil, etc.

H71W-40P

≤200

Corrosive medium such as nitric acid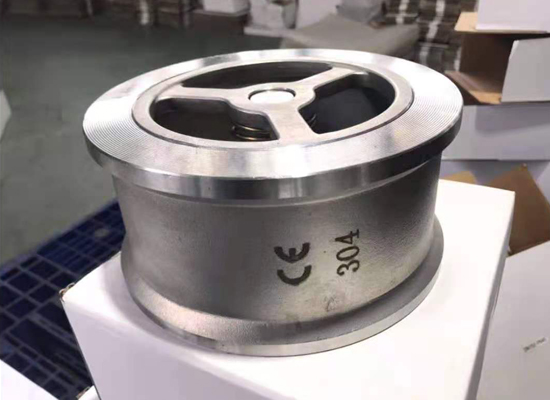 ---
Post time: Dec-16-2021